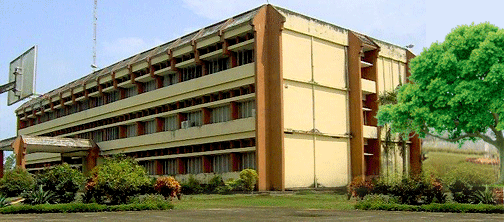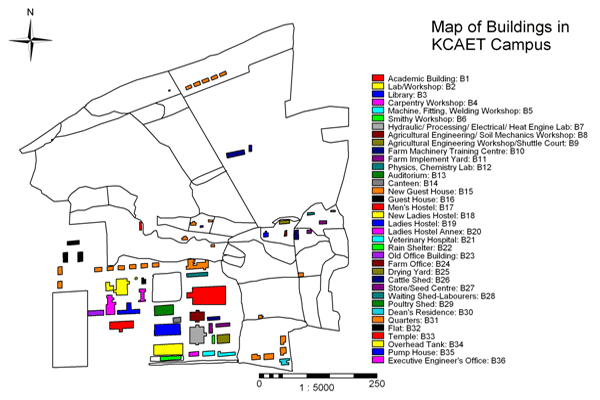 Institutional area and farm land
The College campus and the Instructional Farm attached to it are situated in Tavanur village of Ponnani Taluk (Malappuram District). The total area is 40.19 ha. The area of the Instructional Farm alone is 30 hectares of which 28 hectares are cultivable. Paddy is cultivated in 8 hectares of land and coconut palms in 15 hectares. Arecanut, Cashew, Mango, Jackfruit, Tamarind, Banana and Vegetables are other major cultivated crops.
Administrative building/ block/ space
There are 51 buildings and four Green Houses in the Campus. However, only fifteen of these buildings were constructed after 1985 and others were constructed during the Rural Institute/ IAT period and are more than 30 years old.
Salient Features
The 40 ha campus, comprising of flat upland, sloppy land, wet land and garden lands. Academic Block, Library, Hostels, Well equipped laboratories, Computer centre, Staff quarters, Trainees hostels, Guest house, veterinary clinic, KVK, play ground are there in the flat upland.
A well established air conditioned Computer centre with 40 computers with high speed broad band internet connection is available in the Academic Block. A Geographical Information System Lab with five Computers is also available in this centre.
All the scientists are provided with computer with internet facility. All the administrative and supporting staffs are provided with computers. The Seminar Hall attached to the Administrative Block is provided with an automatic Projection screen with an LCD Projector. The Committee Room and all the class rooms are also provided with LCD Projection facility
A fully automated modern Library and Information centre (KCAETLIC) acts as an outstanding learning resource centre, catering to the learning and research needs of the students and faculty.
A wing of the Directorate of Physical Plant is also functioning in this Campus. They look after the construction, repairs and maintenance of building and other electrical installations.
The Krishi Vigyan Kendra of Malappuram District, established in March, 2004 is attached to this campus.
The College has a play ground of 150 m x 65 m size, used for football, cricket and athletic. Besides, there are courts for basketball, volleyball and badminton. Facilities are also available for playing Table Tennis and Ball Badminton in the indoor court. A five station multi gym is also functioning in the college.
Hostels
Men's hostel
Men's Hostel (MH) operates in two buildings. The old building has 40 rooms, out of which one is allotted to the Resident tutor and another room function as the sick room. Hostel the maximum capacity being 162, considering three students per room.Three B.Tech students share a room while one room is allotted between two M.Tech students. Ph.D scholars are provided single room accommodation. An indoor sports facility with a table tennis board etc., are available in new building of MH. Emergency medical kit is available in the sick room.There is a main mess hall in the old building which accommodates 75 students at a time. The hostel mess is run by students themselves and expenses are shared among them. Uninterrupted power supply is ensured in the MH. High speed internet facility and TV room is available in both buildings.All major newspapers and magazines are made available in the reading room of the hostel.  
Ladies Hostel
The ladies hostel (LH) comprises of two inter connected buildings. Main building consists of three storied structure.  There are total 52 rooms in the main hostel and eight rooms in the hostel Annexe. Four inmates are accommodated per room for the B.Tech programmes, three inmates per room for M.Tech programmes, two inmates per room for Ph.D programmes. The hostel is equipped with a modern kitchen and well-furnished mess hall with seating capacity of 40 students. As a green initiative, the hostel is provided with excellent waste management systems. There are two composting plants and a biogas plant which run on the kitchen waste, contributing to the waste to wealth programme of the college. The hostel also has recreation facilities such as reading room, TV room. computer facility with printing, Wi-Fi centre etc.