Library and other learning resources
A fully automated modern Library and Information centre is on its way to becoming an outstanding learning resource centre catering to the ever growing information and intellectual requirements of the students, faculty members and researchers of the college. The books in the library are completely bar-coded and transaction is fully computerized. The library is having good number of back volumes of foreign and Indian Journals, B.Tech project reports, M.Tech thesis and Ph.D Dissertations. Library portal provides all reports of students in digital format. A web based library portal has been launched as a one stop information shop to the KCAET community in the Intranet in the library. The portal is envisaged as single window to the vast treasure of information resources and services of the Library and Information centre. Approximately, 30,000 books are available (DDC classification) in the library and have internet access to CERA, CABI, INDIASTAT and Science Direct. The ffacilities like printing, scanning, online new arrival services, selective dissemination of information are also available.

Library space with list of holdings
    The library & Information Centre of KCAET (KCAETLIC) act as the central point of information needs of the academic as well as the research community in the field of Agricultural Engineering. The     library        building is   located centrally and    can  be  easily  accessed from  classrooms, laboratories, hostels etc. It has an area of 620 square meters with the following sections.
General Stack
Reference Section
Circulation Section
Internet & e-resources section
Periodicals/Theses/Project reports section
Presently the library possesses the following resources.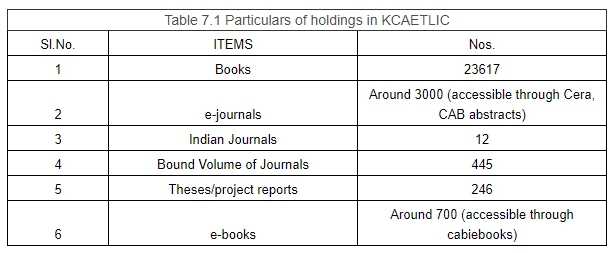 Availability of computers and access to internet
Presently library possesses 10 computers and one IBM server machine for its in-house operations and Internet use. The library subscribes two Internet connections, one with static IP address and one connection provided in NME scheme. The Library developed and maintained a library portal through which the resources of the library are made available to its members. The e-resources like CAB abstracts, e-journals received through CERA consortium and Science direct, KrishiPrabha, etc are provided through the Internet connection with static IP. The Wi-Fi connection provided by the library enables the users to access our resources and OPAC (Online Public Access Catalogue) in their own wireless devices within the library and library premises.
Library timings and usage
The library is kept open from 10.00 A.M. to 9.30 P.M. on all working days without break. At present two professionally qualified library staff and one supporting staff are working in the library. The members especially the students and teachers are using the library very well. A student member entitled to borrow five books at a time with loan period of one month. The teachers are allowed to take eight text books at a time and can keep with them for a semester. All other members are entitled to borrow two books for a loan period of one month.